The tax responsibilities of running a business are extensive to say the least, touching on a multitude of topics from how you deduct expenses to how you pay your employees. It's a lot for anyone to keep straight, and can be a frequent source of grief for small and large businesses alike. But there is a silver lining when you have company tax problems: When the smooth operation of your business is disrupted by pesky tax problems, Tax Resolution St. Louis is only a phone call away for answers. In the greater St. Louis area and beyond, we're your top choice for business tax help, including expert strategies for tax problems stemming from payroll errors. Call us today for a free phone consultation, and benefit from our 40+ years of firsthand tax resolution experience.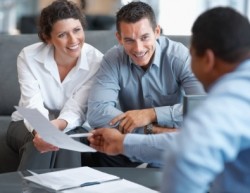 At Taxation Solutions, we're fortunate to work with businesses of all sizes throughout the region. Whether you're seeking tax resolution in Highland, Chesterfield, or St. Charles, you can count on our team of business tax help professionals for timely, accurate assistance with:
Filing late tax returns
Correcting errant or misfiled returns
Lifting business tax penalties
Structuring suitable tax settlements
Preparing for IRS tax audits
Resolving payroll tax problems
Preventing future tax troubles
Wherever the fault lies for your particular tax problems, Taxation Solutions has the training and tenacity to dig deep and pinpoint the heart of what went wrong. As a BBB-affiliated tax resolution company bent on maintaining our grade-A rating, we're committed to making your current tax problems as painless and short-lived as possible. Whether you're being targeted because of an error in filing, an overdue payment, or some other common misstep, you've made the right move by retaining our tax problem solvers. We're specialists in state and federal tax resolution, and we'll close the books on your business tax problems.
Payroll Tax Problems
These days, payroll mistakes are among the most likely culprits behind a business tax debt. Since compensating employees involves stacks of red tape, it's not unusual to get tripped up by tax problems somewhere along the way. If you've received notice about a correction to your account, turn to our tax resolution specialists for assistance with your payroll tax problems. Taxation Solutions has helped many businesses with these types of tax problems over the years, including misclassification slipups, withholding errors, and oversights in filing and record keeping. When you're being hit with a payroll tax penalty, it's essential to retain knowledgeable advisors who are trained in this area of tax law. That's exactly what you can expect from our licensed and insured payroll tax professionals in St. Louis. Resolve your business tax debt once and for all: Call or e-mail us today and make your payroll tax problems a thing of the past!